What do I look at? When in Phoenix … I visit the Phoenix Art Museum (PAM). I saw some old favorites and new things, too. The Heard Museum is great, too, just up the road, but it was a PAM sort of day today. Here is a bit of what I spent my time looking at.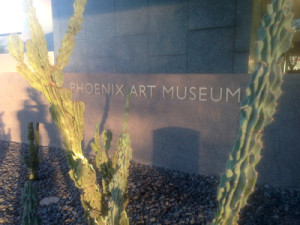 The highlight was the traveling exhibition of Circle of Animals / Zodiac Heads: Gold by Ai Weiwei. It was very worth the trip. It's a conceptual exhibit, so one has to read about it as well. Ok, one does not have to, but it helps. Another place for info is Ai Weiwei's site (http://www.zodiacheads.com).
I spent a lot of time studying the painting by Edouard Vuillard. I looked his brushwork, the layers of his colors, how he placed colors to create the illusion of shapes, and more. I also visited a bronze by my favorite sculptor Barbara Hepworth. It was class Hepworth, a powerful piece. I did not like where it was placed, on a shelf across a staircase, too far away to get its full impact. I also noticed a dreamy image by Agnes Pelton. It was almost a bit too surreal for me, but it was well done and its imagery pulled me in. My photo doesn't do justice to her painting. If you cannot make it to the museum, take a look online at http://www.phxart.org. Oh yes, then there was Rodin.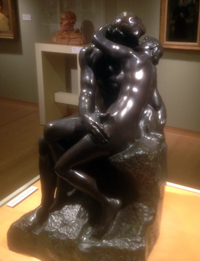 List of images
· Ai Weiwei Exhibit (http://www.phxart.org/exhibition/zodiacheads)
· Madame Lucy Hessel Working at a Dressmaker's Table by Edouard Vuillard, oil, 1908
· Aloe by Barbara Hepworth, bronze, 1969
· Kiss by Rodin, bronze, 1880
· Day by Agnes Pelton, oil, 1935